Interface: Ben Franklin Paratransit Vehicle - Ben Franklin Knight Street Transit Center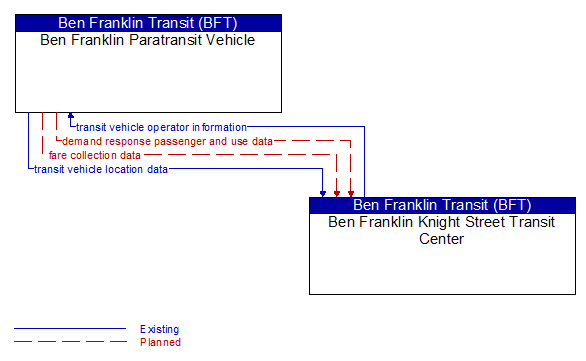 Architecture Flow Definitions
demand response passenger and use data (Planned)
Data collected on board a demand response vehicle relating to the picking up and discharging of passengers.
fare collection data (Planned) Applicable ITS Standards
Fare collection information including the summary of on-board fare system data and financial payment transaction data.
transit vehicle location data (Existing) Applicable ITS Standards
Current transit vehicle location and related operational conditions data provided by a transit vehicle.
transit vehicle operator information (Existing) Applicable ITS Standards
Transit service instructions, wide area alerts, traffic information, road conditions, and other information for both transit and paratransit operators.