Connected Vehicle Reference Implementation Architecture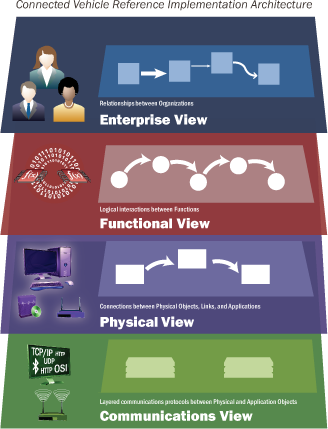 In June 2017 the US DOT released the Architecture Reference for Cooperative and Intelligent Transportation (ARC-IT). ARC-IT is a major upgrade to the National ITS Architecture that covers all of the scope and content from both Connected Vehicle Reference ITS Architecture (CVRIA) Version 2.2 and the National ITS Architecture Version 7.1. ARC-IT provides a unifying framework that covers all of ITS, including all of the Connected Vehicle applications. Visit the ARC-IT website at www.arc-it.net for more information.
The Systems Engineering Tool for Intelligent Transportation (SET-IT) Version 8.0.46 is available as a download from the Tools page of the ARC-IT website. In addition to supporting all of the ARC-IT content, this version includes numerous fixes to improve the user experience. See the Tools page and Readme file for more details.
SET-IT 2.2.35 that was based on CVRIA 2.2 is no longer available as a download but may still be used for documenting and supporting existing connected vehicle projects.
Feedback is encouraged as the CVRIA is developed and maintained. Key stakeholder activities include:
Reviewing the architecture views
Reviewing the standards development plan
Providing inputs for policy development and review policy options
Please use the Contact Us page to ask questions or provide comments to the team.
Welcome to the Connected Vehicle Reference Implementation Architecture (CVRIA) Website! This site is your tool for reviewing, providing feedback, and using the architecture content for standards and project development. CVRIA is being developed as the basis for identifying the key interfaces across the connected vehicle environment which will support further analysis to identify and prioritize standards development activities. CVRIA will also support policy considerations for certification, standards, core system implementation, and other elements of the connected vehicle environment.
As shown in the figure, CVRIA is developed in 4 Views:
Enterprise - Describes the relationships between organizations and the roles those organizations play within the connected vehicle environment
Functional - Describes abstract functional elements (processes) and their logical interactions (data flows)that satisfy the system requirements
Physical - Describes physical objects (systems and devices) and their application objects as well as the high-level interfaces between those physical objects
Communications - Describes the layered sets of communications protocols that are required to support communications among the physical objects that participate in the connected vehicle environment
Another way to view the architecture is from the perspective of the connected vehicle safety, mobility, environmental, and support applications. Each application page shows the subset of each of the views that pertain to that application.
The project is sponsored and led by the USDOT's ITS JPO, under the management of the ITS Architecture and Standards Programs and in cooperation with the Systems Engineering and Test Bed Programs.